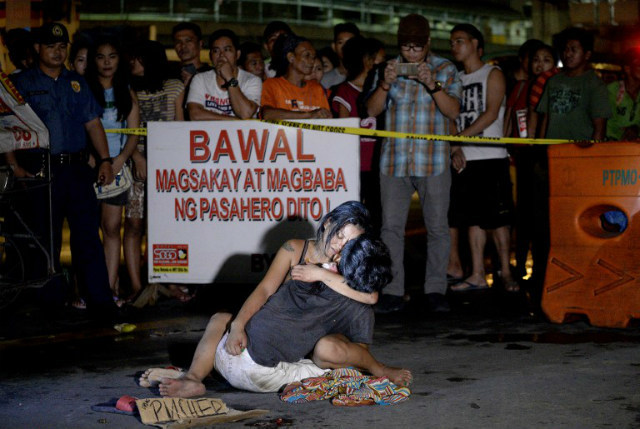 The war on drugs by the Duterte administration has "targeted and negatively affected the poor", According to the Commission on Human Rights, in their report to the United Nations.
The CHR noted that more than a thousand deaths occurred during police operations, citing words by Philippine National Police Director Ronald "Bato" dela Rosa during a Senate inquiry.
The CHR has passed a written statement on the occasion of the UN Committee on Economic, Social, and Cultural Rights' scheduled review of the Philippines.
"As of 15 September 2016, there are 2,035 deaths under investigation by the Philippine National Police, and 1,105 people killed during police operations,", the report said.
As of September 24, the number of those killed in police operations, according to the PNP, has reached 1,216.
The CHR claims that it is investigation 144 cases of extrajudicial killings from the Duterte administration.
Along with this, are 531 cases under the Aquino administration from July 2010 to June 2016, and 941 cases during the Arroyo administration from 2001 to June 2010.
presidential spokesperson Ernesto C. Abella had noted that the drug problem is a public health concern related to poverty last August.
The issue of extrajudicial killings, while a part of the CHR report, is not part of the agenda of the UN review of the Philippines next week which will only cover economic, social and cultural rights.
CHR Chair Jose Luis Martin "Chito" C. Gascon noted, however, that the issue is instead expected to be discussed by the UN during its "universal periodic review" scheduled in April 2017.
Besides the UN, the European parliament and the United States have already expressed concerns on teh rising number of deaths.
President Rodrigo Duterte remains unmoved.
Several foreign business groups such as the European Chamber of Commerce of the Philippines (ECCP), the Nordic Chamber of Commerce of the Philippines (NorCham), and the American Chamber of Commerce of the Philippines (AmCham) have also voiced concern over the war against the illegal drug trade in the country.
"Certainly, the illegal drug menace is a serious threat in the Philippines, as it is in the US and elsewhere. However, the increased number of killings during the heightened anti-drug campaign is harming the country's image, as portrayed by international media, and some investors are now asking whether this campaign reduced the rule of law," the AmCham said.
The CHR has asked the UN to call on the Philippine government to grant the country visit requests of the Special Rapporteur on human rights defenders, the Special Rapporteur on extrajudicial, summary or arbitrary executions; and the Special Rapporteur on the rights to freedom of peaceful assembly and of association.
The Duterte administration has said that it welcomes the UN rapporteur on Human Rights but has yet to release formal invitation.
"Though there is no formal invitation, the Duterte administration welcomes the United Nations Rapporteur on Human Rights to come over and look into the alleged human rights concerns—a clear manifestation that this administration has nothing to hide before the international community," Presidential Communications Office chief Secretary Martin Andanar said. MJM
The poor are targets of govt's war on drugs, says CHR
Reviewed by
FNPH Correspondent
on
Monday, September 26, 2016
Rating: